The Bowling Viaduct Highline  (The Bowline) regeneration project represented a significant investment in public space, green infrastructure and tourist facilities by Scottish Canals, Sustrans and West Dunbartonshire Council.
Location: Bowling Harbour
Client: Scottish Canals
Cost: £3.2m
Completion: 2021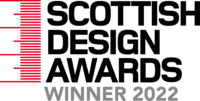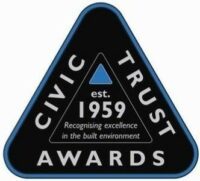 The Bowline is a new active travel route and elevated linear park with viewpoints that brings back into use the disused Bowling Viaduct and its listed Swing Bridge. The elevated travel route eliminates a dangerous road crossing on the A814, creating a new off road section of National Cycle Route 7 connecting Glasgow to Loch Lomond and the Trossachs National Park.
The client brief identified the need for improved access for all from the canal towpath, existing cycle route and Bowling Basin to the viaduct, improved lighting and the creation of a series of architectural interventions to animate the various sections of the viaduct, with the main focus being on the interface between the 120-year-old Swing Bridge over the canal.
The Bowline connects at three points to the NCR7 and canal towpath; at grade at its east and west ends and via a new accessible ramp that spans between the viaduct and canal towpath. This ramp has been designed for full cycle, wheelchair and pedestrian access, thus maximising the opportunities for all visitors to Bowling to access the viaduct and the wonderful panoramic views across the Firth of Clyde.
Results
Safe pedestrian and cycle access has been successfullly achieved by linking National Cycle Route 7 without having to cross the busy A814, Dumbarton Road.
The completion of The Bowline marks a significant stage in the wider regeneration of Bowling Harbour that includes the regeneration of railway arches and public realm around the harbour.
Winner of the 2021 Scottish Civil Engineering Community Award and 2022 Scottish Design Awards "MASTER PLANNING/LANDSCAPING" Category and has also recognised as a winner in the 2023 The Civic Trust Awards
"Edrington have worked with Blyth and Blyth for the past 15 years on various projects throughout the group and during this time we have developed a close and trusting partnership. B&B offer the full range of engineering services, allowing us to have a one stop shop on engineering consultancy requirements, with the obvious benefits this brings. B&B experience in the whisky industry is second to none which has the double benefit of not wasting time and money having to explain the process each time. As said previously, Edrington have been working with B&B for more than15 years and with a fair wind this relationship will continue for a further 15 years and beyond."